First Firmament is the First Omniverse
First Firmament is the First Omniverse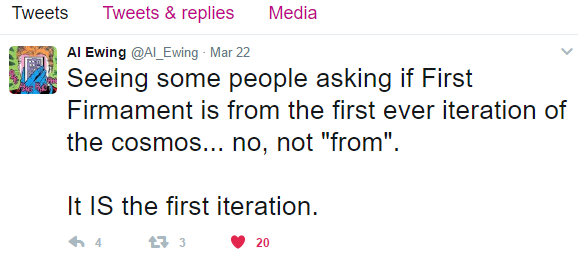 Al Ewing has confirmed the statements about the recent issue of The Ultimates 2 Vol.2 Issue No.5 with the Cosmic Jailer being the 1st Omniverse in marvel! predating and the only one surviving the previous "Destruction" of the omniverses.
it's confirmed that the 1st Omniverse itself is still existing where 2nd,3rd,4th,5th,6th, and 7th are no longer existing.
Read more
This topic belongs to the forum
Numbers of topics : 1377
Numbers of messages : 10436
Numbers of users : 325
Numbers of points : 170
Just to inform those who hate us for our factual views and our actual accuracy with characters we have have a few words! To the haters: To the butthurt: To the cry babies: To Those Who Cant Accept The Truth: To The Whiners:
So...... A) Cosmic Cubes are helping in the rebuilding of the universes. B) The Fantastic 4 are rebuilding the universes to multiverse to megaverse and to omniverse themselves. C) Both the Cosmic Cubes and the Fantastic four are rebuilding the
Logo :  Forum Title : Fictional Battle Omniverse Forum Description : #1 Online Source For Fictional battles and a Omniverse for everything and anything. Forum category :  Debating,Anime,Comics,Video Games and Online Community Forum Address :
No Omnipotent Beings.
Major Rules 1.FBO Wikia Sources For All Battle Profiles And Debating Tips Are Found Here. 2. Bashing on fellow members usernames of this forum fictional/non-fictional are prohibited. 3. Do Not! attack people based on religion,sex,age,sexual orientation
Forums from same category