Cave Story eShop update now available
Cave Story eShop update now available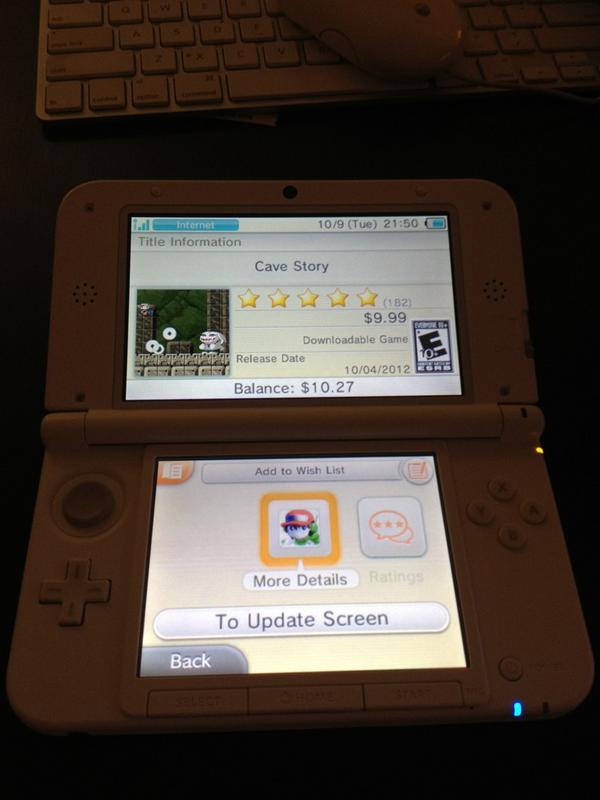 There has been report from some who purchased Cave Story, released last Thursday, receiving crashing issues during gameplay. Today, Nicalis reveals via Twitter that an
Update
is now available in North America.
Now enjoy saving bunnies.
Read more
This topic belongs to the forum
Numbers of topics : 4749
Numbers of messages : 55664
Numbers of users : 337
Numbers of points : 163
The developers might actually take advantage of what the 3DS could do ! In the latest issue of Nintendo Power, they have "supposedly" confirmed that the 3DS e-shop release Mighty Switch Force and 3DS game Cave story 3D will both have "updates" that wil
Cave Story is a great game created by the one man crew, Pixel Studio and is a really amazing Adventure/Platforming game. Story/Gameplay In this epic game you play as a human-like robot from the surface who has lost his memories and try to save the
Ikachan is an incredibly under-rated game by Daisuke "Pixel" Amaya, the creator of Cave Story. And it's coming to DSiWare! It looks like a pretty minimal-effort port, but it's a great game so YOU SHOULD BE EXCITED!
Oh The Profanity! Sanuk Games the developer's of Spot The Differences Party! Have announced that their latest title, Bombing Bastards is going to release on the North American Wii U eshop next week on July 3rd via Twitter! The game is clearly
Chariot, Mega Man Network Battling sequel, Treefall's Puzzle Adventure Title, another painting app, TMNT, and Adventures of Lolo for 3DS VC, Plus Several New Discounts! Nintendo eShop on Wii U: CHARIOT: A family-friendly physics based platforme
Forums from same category